SKINTACT Monitoring ECG Electrodes
Product code:
SKINTACT ECG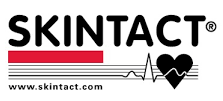 SP Services is very pleased to announce that we now stock the full range of SKINTACT® defibrillator pads and ECG electrodes.
Easy to open pouch and handling aid on all SKINTACT® monitoring electrodes facilitate easy use
Protective backings of short term monitoring electrodes are impermeable to liquids present in prehospital and medical procedures

Excellent quality ECG recordings are dependent on three main factors: Good skin preparation, superior quality ECG electrodes, and a continuous unbroken electrical pathway from the skin to the ECG machine.
Skintact ECG Electrodes often have to perform under very strenuous conditions, therefore at Skintact they dedicate valuable time and attention to the design and construction of their electrodes; they then carefully select only the finest quality materials and component parts to produce them.
Uniquely, Skintact design and build their own machines that are state of the art in manufacturing technology ensuring you quality products that are second to none. "Connect with quality" is their motto and the goal is to provide you with consistently reliable electrodes. There is no compromise attitude to quality and variety at very competitive prices, undoubtedly "Raising the Standards in ECG technology"

Contact the Customer Services Team at SP Services is you would like any assistance in choosing or ordering the correct ECG Electrodes for your needs.
People also bought...